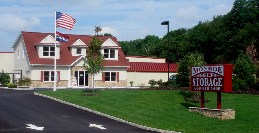 FAQS

Do you have packing supplies available for purchase?
Yes. We stock an array of boxes and packing supplies including bubble wrap, packing peanuts, and tape. Visit our Pack Supply section for more information.
Do I need to purchase a lock for my unit?
Yes. Locks are available for purchase in our office.
How do I access my unit?
Each customer chooses their own individual pass code that will open the entrance and exit gates. In addition to granting access to the property this pass code is also linked to an alarm on your unit door that is deactivated when you key in and reactivated when you key out. This keeps your unit secure at all times. Normal gate access is from 6 AM to 10 PM. 24 hour access is available at $5.00 a month.
When is the monthly payment due?
All payments are due on or before the 1st of each month.
How do I make my monthly payment?
Payment by money order, cash, check, Visa, MasterCard, American Express, and Discover is accepted. You can make a payment by calling, stopping in, or mailing a check or money order. We also offer a monthly auto-pay option. Contact our office for a convenient auto-pay form and never worry about late fees!
Do I need a temperature controlled unit?
Our temperature controlled units keep your belongings between 80 and 55 degrees. When deciding between temperature controlled and non temperature controlled storage consider the length of time you will be storing. Will you be encountering any season changes? Also consider whether or not you have any antiques, paintings, or electronics. You can always ask our knowledgeable storage professionals for a recommendation based on specific items.
Do you offer additional moving services?
We do offer a low price moving truck for your convenience. Please contact our office for specific terms of the truck rental. We can also put you in contact with several reliable local movers.