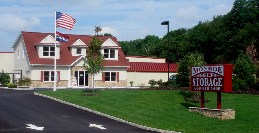 Our truck is available for our tenants use only.
Your first use at move in (within first 2 weeks)
for up to 8 hours and 50 miles is FREE.
You are required to fill the gas tank before returning.
Current tenants may reserve the truck for
addtional use at $5.00 per hour
(minimum of 4 hours)
and .50 cents per mile PLUS gas fill up.
Our truck is for local use and must be picked up and returned
on the same day during our business hours.
Sorry - No overnight use is allowed.
Call our office during business hours to reserve our truck.